An accent wall becomes a focal point —- Red Lion Hotel, Olympia, WA
---
Diane Boller, ASID
March 31, 2017
 It doesn't take much searching on the web to find hotel rooms that are dated and tired looking, possibly even considered "tacky".  Tell-tale features of dated trends include mauve and teal color schemes, wall vinyl borders, printed/quilted bedspreads, Hollywood style vanity lights, fiberglass shower enclosures, shiny brass wall lamps or swag lamps, in-room Jacuzzi tubs……the list goes on.
These items were all current trends in the mid-late '90's, and many of them were actually mandated by hotel franchise groups at that time.  If owners wanted to stay up- to- date with franchise requirements, they had to comply with the latest fashion trend and include many of these items in the décor of their guest rooms.
On their own, there was nothing really wrong with these items.  What made them become dated was the fact that they were over-used.  The public
quickly grew tired of seeing the same treatments over and over, and furnishings that were relatively new suddenly seemed dated.
Unfortunately there is no shortage of current trends that are likely candidates to be part of tomorrow's dated hotel rooms:  bed scarves, plain stark rooms with no pattern or definitive color, subway tile, vinyl plank floors, lounge chairs upholstered in two fabrics.
How does a hotel owner avoid getting caught up in the trend trap?  Granted, it isn't easy to go against the flow, especially when dealing with franchises.  But being willing to change up the look and choose furnishings that are ahead of the curve can keep a hotel room looking fresh far longer than following the current trends.  It also helps make a hotel room much more memorable in the guests' mind.
Here are a few suggestions:
If your guest rooms have scarves, try placing them lengthwise or diagonally on the beds rather than across the foot of the bed.  Or, replace the top of the bed treatment with a higher quality coverlet or duvet.
Select moveable modular seating, or seating that is wood and fiber, resin or metal rather than the typical upholstered lounge chair.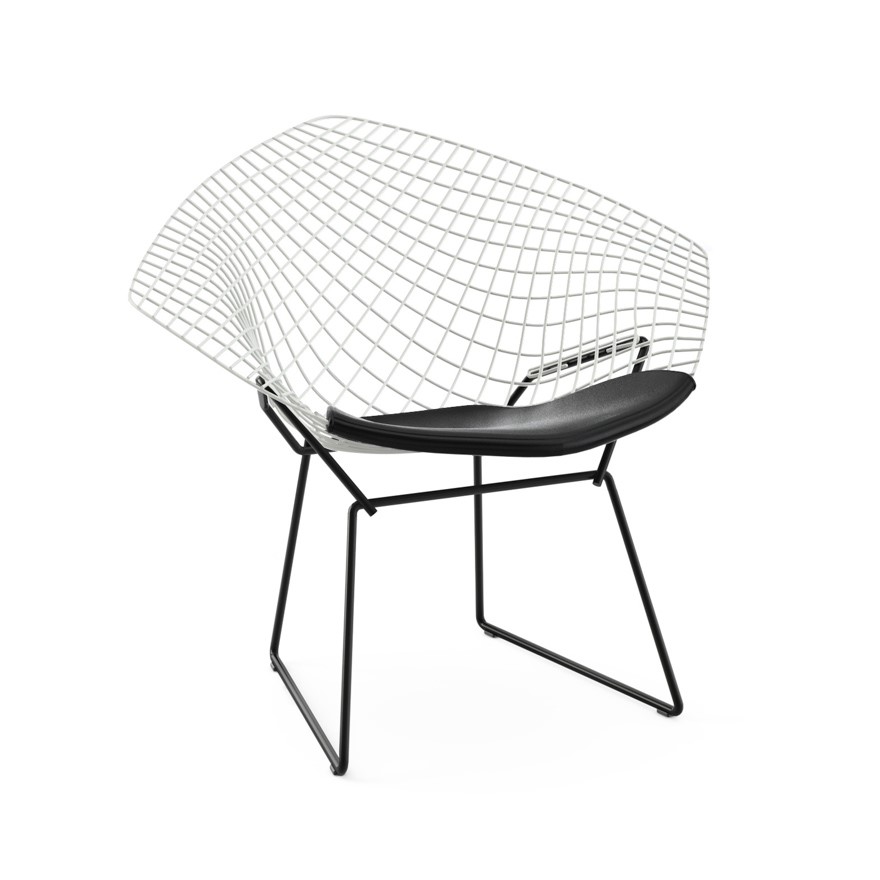 A classic wire chair designed by Harry Bertoia – 1952
---
Add a splash of color or pattern to a room that is otherwise neutral.  This can easily be done as a non-permanent feature, like a bolster pillow on the bed, a simple painted graphic design on a wall, or a dramatic piece of artwork.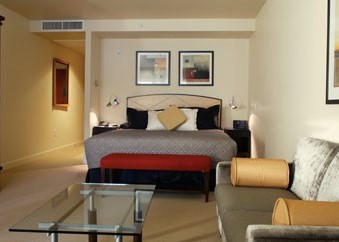 Adding a splash of color to a neutral room —- The Avalon Hotel, Portland, OR
---
Add focused lighting to highlight a piece of artwork or create a gallery effect in the room entry.  Create a soft background with a back lit vanity mirror or under-counter lighting.
Use a few pieces of outstanding local photography to capture a unique regional flavor for your property.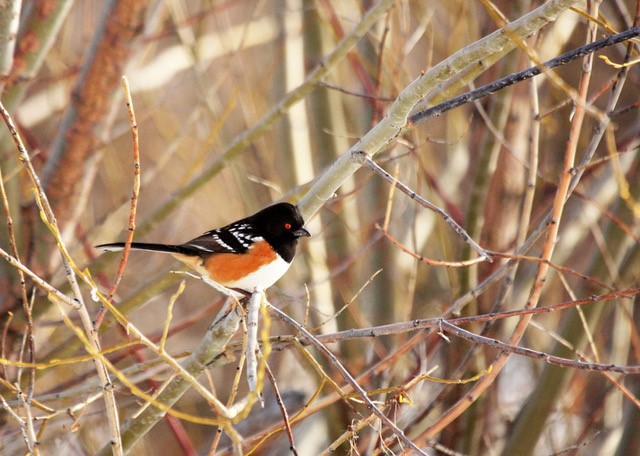 Original photo by Larry Turner Photography
---
Find a way to surprise your guests with something they don't expect. It could be as simple as a bottle of water or a biscotti to go with their morning coffee, to something more exotic like one of these items:  a live plant in the room that is typical of the region, a walking stick, a deck of cards, a calendar with vintage regional photos, a rubber ducky and bubble bath, 3-D glasses, foot cream.  Be creative.
Guests respond to hotels that go beyond the expected to provide a memorable experience and a personal connection.
– Diane